About Mike Sutherland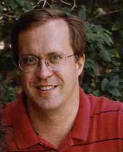 By no means a 'professional' minister, Mike leads a 'regular' life in the business world, and has an MBA.
Upon completion of that degree, he decided to continue studies pursuing the 'ultimate questions' at Biola University in Los Angeles, accomplishing an MA in the Philosophy of Religion – Christian Apologetics.
He is the Director of Renew-Your-Mind.org Ministries, an instructor at the Lay Bible Institute, and an adjunct Professor at the local university. A former elder at his church, Mike also teaches Kindergarten Children's Church as well as many adult Apologetics classes.
He has conducted numerous Apologetics Conferences, and Pastor's retreats, focusing on the topics of Apologetics and Current Event Evangelism.
Our Vision and Mission
We're a non-profit ministry organization, dedicated to presenting the 'thinking' Christian viewpoint to the world.
We believe that God intends for us to worship Him with our heart, soul and mind (Matthew 22:37), and that He intends for us to always be prepared to answer questions about our faith (1 Peter 3:15).
We believe that the current influences of 'secularism' and 'postmodernism' in our culture projects a false dichotomy between Christianity and rational thought.
We believe that a proper understanding of the evidences for the Christian faith should be a part of every Christian's spiritual walk, and is one aspect of obedience to Christ.
Therefore our mission is:
"To promote Christian maturity and obedience by presenting the evidences for a rational faith in Christ to His servants and to the world."
Related Links